The wedding flowers arrived in this morning's mail. They are absolutely beautiful and we are thrilled with the result. Thank you! I will be sure to send you pictures after the wedding.

Best,
Nicole - California
---
I meant to tell you thank you again for the rush on my wedding bouquet – it was absolutely beautiful and everyone thought it was a great idea to have a bouquet that I could keep. It was exactly as we discussed.
Thanks again!!
Dawn
---
I just loved my wedding flowers so much. So many people made comments and no one had ever seen anything quite like them before. The best part, it has now been 2 years and they are just as beautiful as ever. I was so impressed with the quality and how I just sent a sample of my colors and the flowers were just the perfect shade. Thanks so much. I am sorry it has taken me so long to write.. I was a little scared at first about getting these flowers but believe me they were a big hit. Even my wedding planner said she was going to look into them for her wedding.
Thanks again,
Jamie
---
Hi! We just wanted to say thank you again for the roses and all you help! The ball was beautiful! And everyone loved the roses!! I am attaching a photo of Mike and I with a couple of the roses so you have a face to put with the order. Thank you again and if we ever need flowers again you will be who we call.
Thank you,
Kari and Mike Post
---
I received the boxes with the bouquets on Saturday. I want you all to know that they are absolutely the most beautiful bouquets I have ever seen and are more than I expected. Not because I doubted your product, but because I really had no idea of the effect they would have once I actually saw them in person and felt them. They are perfect! Even the weight is perfect. You created ALL of them exactly how I described and the ribbon finish is so beautiful and classy. I also love the romantic baby's breath you used too. I can't express to you enough how pleased I am with the way they turned out and your customer service as well.
I will most definitely send you pictures after the wedding and I am showing them off already to everyone.

Thank you again,

Stephanie

---
Dear PWB,
My mom & I would like to send our sincerest thanks for the awesome wedding flowers you did for my wedding! They were absolutely gorgeous! My wedding bouquet in particular was exquisite. I purchased a crystal vase for my bridesmaids and along with their bouquet, they now have a beautiful keepsake from my wedding. I purchased the tall, slender, frosted vase from you to display my bouquet and will always cherish it and be reminded of my very special day! I gave my grandmother and my mother-in-law a tussie mussie as a keepsake, and my mom a beautiful wrist corsage!
I'm attaching some photos from my wedding and please feel free to use them if you wish! Again, thank you so much for making my wedding day a very special one, I felt like an absolute princess!
Sincerely,
Sarah Hamilton
Dear PWB,
The time and effort you put into our wedding flower bouquets really show. I was very specific in what I envisioned and you were "in tune" with what I saw in my own mind's eye. I appreciate how patient you were with me in making my dream bouquet come true. You were even able to make it better with your own ideas! I was amazed with how much more beautiful the flowers are in person. Those who knew I was getting porcelain flowers just smiled at me as if I'd lost my mind. When they saw them for themselves, they couldn't believe they weren't "real" flowers...even with the crystals! Now they think I'm a genius, when in fact, the true genius is you. Thank you for sharing your talents and for being so very kind. You are as magical as your flowers.
Sincerely,
Juliet Deckman (formerly Juliet Rivera)
Griswold, CT
---
Dear PWB,
As you can see my bouquet looked absolutely beautiful at my wedding (and still does). It was made in the perfect colors and style and many people spoke about how beautiful it was. When I first told people I was going to have a porcelain bouquet, many of them frowned, but once they saw it they couldn't believe how beautiful it was and totally agreed with my choice. So, of course I didn't throw my bouquet at the reception, I threw a silk one instead. Which means of course... as well as my new husband, I get to keep my porcelain bouquet forever!
Thank you so much for your timely and professional work.
Tasha Smith
Inglewood California
Sorry it has taken so long to get these pictures to you. My wedding bouquet was absolutely beautiful. I received numerous compliments. I also referred a friend to you.

Thank you so much,

my bouquet definitely added the touch of uniqueness to my special day.

Telisha McClure- Holmes
Click here to see Photos

Bellagio Hotel in Las Vegas
---
Thank you so much for the amazing porcelain wedding flowers. They were absolutely stunning!! The wedding co-ordinator on the Queen Mary took your details as she was so impressed by the quality and how unique they were.
I have to say despite traveling to Las Vegas and San Fransisco (spending a cold night in Lee Venning en route) plus the plane ride home across the Atlantic the flowers held up beautifully. They now reside proudly in our display cabinet where they draw lots of comments from friends.
You can see from the examples that your unique flowers matched our unique wedding. Thank you again.
Lisa Rayner
I finally got the pictures back, here they are. Everything was gorgeous. Thanks so much. Your gift to my day was forever marked and unforgettable by all in attendance.
Cashenna and Mario Cross - Texas
I received the flowers and I love them. Everything is so beautiful. Can't wait to show them off. You did a wonderful job and I really appreciate your time and effort.
Thanks again.

Areatha Johnson - New York
---
I don't think I can express fully my sincere gratitude for your services. My wedding flowers are more spectacular than I could have ever imagined. You really have a special gift to be able to create such beautiful pieces of art!

I will certainly recommend you to each and every bride-to-be that I meet. I can't wait for my special day to show off my flowers!!! I don't think I'll want to put them down.

As soon as I get my pictures back, I will send you some copies for your album.

Your attention to detail will never be forgotten. Thank you from the bottom of my heart!!!

Amanda K. - Delaware
---
PWB,

Thank you so very much for all the love and care you put into all of the bouquets and wedding flowers! You truly were a blessing! You really made us feel like this was our special day!! Unbelievably, that is hard to find! You treat us as if we are close friends, and that means a great deal to us! Thank you from the bottom of our heart!

We will treasure our flowers for a lifetime!!
Love,
Malina and Danny - Ohio
---
We thank you so much for your services we requested on very short notice. Your wedding bouquet was more beautiful in person that I could have imagined and now I can have it to enjoy forever. I have enclosed for you, two wallet size pictures of us. I will continue to recommend your services to all my family and friends.
Sincerely, Diana
---
PWB,
I'm home. All was beautiful. Everyone loved, loved, loved the wedding flowers and never heard of such a thing. Thanks so much for doing such a swell job, you should be so proud of yourself for creating such beautiful flowers and making memories last a lifetime for people like us. Your work is exquisite and second to none. I will always remember your professionalism and uniqueness. Keep in touch.

Sincerely,
Hilda Sciandra - Pennsylvania

PS I had strangers at the hotel running after me asking me about the flowers so I told them your website
---
I am Jodie's mom - I just wanted to send you an e-mail and let you know how beautiful her bridal bouquet was. The bridesmaid's bouquets were all gorgeous. Everyone that sees her wedding pictures, just rave about how pretty the flower are. When Jodie first told me about the porcelain wedding flowers - I thought she was a little "nuts" . Now she will always have a beautiful remembrance of her very special day. I also loved my corsage.

Thanks for making my daughter's wedding day so special with your lovely
flowers.

Karen -
---
PWB, Everyone loved the wedding flowers. They look so life like! Thanks, Gayle
---
I received my wedding bouquet about twenty minutes ago! It definitely exceeded my expectations if you can believe that! It is absolutely breathtaking......perfect! You did such a good job....I'm so giddy and excited over it...I can't stop looking at it and carrying it around! My finance really likes it too.
Thank you so very much! Amanda
---
Thank you for such a beautiful wedding bouquet. I wanted to let you know that I received the package and everything was in perfect order.
Annette Jimenez
Just got the wedding flowers and they are beautiful! They are beyond my expectations. The pictures on the web site don't do them justice. I can't wait for my daughter to see them. As I was opening them I started to cry they were so gorgeous. We will send you pictures of her and her beautiful flowers after the wedding. I just know they will be a hit with our guests. Once again thank-you so very much.
Darlene Leeson
---
I just received my wedding bouquet today and I have to say it is one of the most beautiful things I have ever seen. I absolutely love it!
You did a phenomenal job and I am posting pictures and a link on a wedding message board that I am on.
Once I get back from my destination wedding in st. John I will send you pictures!
Diana Alamendarez
---
I just wanted to send you a quick note to say how pleased I am with the porcelain wedding bouquet I received the other day. It's absolutely beautiful and I will treasure it always.
Thanks once again for the beautiful craft-man ship,
Barbara Jarvie
---
I received my wedding bouquet and it is just stunning. I am very pleased with it.
Thank you,
Jamie Turner
---
Good Morning. I received my wedding bouquet Saturday and just wanted to say WOW! Thank you so much. Your pictures do not do the craft-man ship justice. It is more breath taking than I imagine. Again thank you for offering Brides like me the alternative to fresh flowers.
Take care,
Sherry
---
I received the package today and everything is beautiful! Thank you very much, and as soon as I get pictures I'll get them to you.
Mayra Ortiz
---
My bridal bouquet, tussie mussie corsages, and boutonnieres arrived today. I can't wait until the big day to show them off. Their beauty and uniqueness will surprise and amaze my friends and family and will certainly be a focal point a the wedding.
I want my second time around to be very personal and unique in every way. The finished product far surpassed my expectations. You would not believe how well my periwinkle dress matched the flowers!. Oh... and those crystals! Absolutely stunning and perfect match to my jewelry and headband.
I was very excited to see my bouquet online!
Thank you so much for adding a great deal of sparkle and lasting beauty to new beginnings.
Sincerely,
Debbie Zsiga
---
Aloha,
Thank you for the beautiful crystal bouquet! Everyone was in awe when I walked down the aisle because of the sparkles. Thank you for your quick and wonderful service. We are enjoying our honeymoon and will send you pictures when we get back.
Many Thanks and God Bless,
Jennifer Mule (Stacknik)
---
I wanted to email you and let you know my bouquet was absolutely beautiful!! It was very vibrant in color and I appreciate the workmanship that was put into making it.
Once again, thank you very much for helping to make my special day a great success!
Michelle Baltimore
---
Thank you, PWB, for making our wedding day more beautiful! The roses were so gorgeous and all of our guests complimented and asked about them. My heart shaped bouquet was extraordinary and exactly what I had dreamed of! Hope to see you soon!
Thank you, again, for adding such beauty to our big day that will last forever!!
Love,
Angela and Joey Chardella
---
Well, it all came and went so fast. It was a beautiful day and our renewal of our wedding vows was better than I had dreamed. My wedding bouquet was absolutely perfect with my gown.
Thank you,
Maria Ferreras
---
I wanted to let you know my wedding flowers were beautiful and my wedding pictures are now online.
Thanks again,
Wendy Wilfong (Kennedy)
---
I just received my bouquet. It is beautiful! Thank you so very much for all of your help. I was afraid to order something from the internet. After talking to you and hearing the services you offered, I am very happy that I did. Happy New Year and I will "Give Thanks" for you. Good luck with your business.
Anita
---
I just wanted to let you know that our mothers loved the porcelain roses that we presented to them during our wedding. The color was perfect. The "New" rose was absolutely beautiful. It looked so real. They were very happy to have a memento from our wedding that they will be able to cherish for years to come. We received many compliments on the roses from our guests.
Thank you for making our wedding day special for our mothers!
Sincerely
Karen & James Hechler (Kutz)
---
Thank you! The bouquet arrived and it is perfect! Heather is delighted. I appreciate all your patience with us and the changes we made along the way.
Best regards,
Gwenn
---
Thanks for everything. It all looks so beautiful. I will definitely send you some pictures from the wedding.
Elizabeth
---
I received the rest of the flowers Friday morning. I already new what to expect and I am-again very pleased!! My Maid of Honor will be in contact with you. She picked out her Bridesmaid bouquet and she could not get over the look of the flowers!! Because we could not have fresh flowers due to my fiancé's allergies getting in touch with you was the best decision. I had considered silk but as a last resort and I'm glad I did not have to go silk. Thanks again Jill!! I'll keep in touch with the flower girl halos as soon as I get the last two measurements.
Thanks again!!!
Deborah Ortiz
---
I just wanted to send you a quick email to let you know I received my wedding flower order and was absolutely thrilled. My fiancé opened the box with my bridal bouquet and said he got chills because it was so beautiful. I will definitely send you pictures after the wedding. Thank you so much for taking the time to make my wedding bouquet, corsages, and boutonnieres so beautiful and something that will be treasured for years to come.

Thanks again,
Danielle Riccardello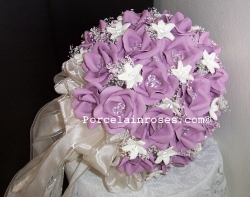 ---
I received the bouquet. It is beautiful. Pictures shown on the web do not do it justice. Thank you so much.
Take care Debby Fisher
---
Oh my god! I tell you, the pictures do not even due your wedding bouquet justice. They are absolutely beautiful! I am seriously impressed and I am going to recommend you to everyone I know getting married. I have never seen anything so amazing in my life. Thank you so much!!

I will send you wedding pictures showing off that stunning bouquet! Everyone that has seen is just taken back by how beautiful it is. I can hardly wait to get married in a few weeks!

Alexia Spaedt
Follow up:
I just wanted to thank you so much for such a beautiful bouquet. It really made my wedding day so special. Everyone raved about how wonderful my flowers are and I have them for the rest of my life to keep to remind me of our wonderful day! I am so happy I found you and highly recommend to everyone doing this!! Thanks again!! Alexia
---
I received my package. I checked all the items, and everything is okay.
The wedding flowers are absolutely beautiful, and I was so shocked that they are so light! I cannot wait to show the flowers off at my wedding. They are sure to be quite the topic of conversation. Thank you so much!
Tara Trapp
---
I wanted to thank you very much for my bouquet and boutonniere. I ordered them over a year ago, but just got married May 20th. My bouquet was perfect! I would love to let everyone see how wonderful it was. I would like to send you some pictures, but only have a couple right now. I will be getting the ones from the photographer back in a couple of weeks still. Do you want me to send you the one I have, or wait until I get the ones from the photographer and mail them to you? It doesn't matter to me. Thank you!
~Stephanie Henriksen
(Formerly Stephanie Wiggins)
---
The bouquet was beautiful. I received so many complements. We have
pictures on our website, so if you want to download any and use them, you are welcome to. Thanks again for everything!
Amy Henry (Feuerstein)
Thank you for everything. My wedding flower bouquets were beautiful. Everyone complimented them and thought they were a great idea. You are more than welcome to use any of the pictures for your website. Thanks for everything,
Elizabeth Heath
---
Just dropping a note to let you know the the bouquets arrived with no issues. And I have to say that I love them. I had them at work since I picked them up in the morning & all the women were gushing over how beautiful they are.
Thanks so much. Pam
---
I just wanted you to know that the bouquet and boutonnière have arrived safely and are absolutely BEAUTIFUL. They are really stunning. Thank you so much for playing such an important part of our wedding day with such courtesy, excellent service and fabulous results. We would be happy to send you some photographs of the bouquet at our wedding.
Best Regards, Jane Eastwood - Colorado
---
I just wanted to let you know that I got the 3 bouquets today,,,and they are GORGEOUS!!!! My girls just loved them and so did I. They will make our renewal so beautiful!! Thank you so much for the beautiful job!! We will be sending pictures to you after January 3rd. I shared your story with my girls today and they thought that was such a awesome miracle and they felt as did I how much more special it makes what you do. Take care and God Bless. Merry Christmas and a Happy New Year to you and your's,
Cherie, Jessica and Sarah Stiles - Georgia
---
I received the wedding flower package on Friday and I spent the whole weekend showing family and friends the crystal bouquet and the corsages and boutonnieres. Everyone commented that they look so real! I expected great, but these are awesome! I feel so excited for my wedding day now. Before I saw your website, I never even knew such a thing as porcelain bouquets or crystal bouquets existed. I am getting married on a cruise ship, and due to regulations , I am not allowed to bring fresh flowers on the ship. I could have bought fresh flowers through the cruise, but their selection was not what I wanted and even if I purchased fresh flowers through them, I would not be able to take my flowers home and the other people in my wedding party would not be able to take their fresh flowers off the ship due to regulations. This left me sad and perplexed as to what to do. When I found your website, I was so excited to find out there is an alternative to silk flowers that really do look real! I can't thank you enough for your help, time, and great packaging job with the flowers. I truly appreciate creativity like yours.
I received my wedding flowers today all I have to say is WOW!!!
They are absolutely gorgeous! Thanks you very much I will highly recommend
you to everyone I know.
thanks again
Leslie
---
I was married in Walnut Creek California and was delighted with my everlasting porcelain

wedding bouquet which now sits in the china cabinet with other crystal we received as gifts.

I chose a white, clear crystal design with grey and white ribbons and it was beautiful, unusual and of course as beautiful today as on my wedding day.

Thank you PWB,

Karen
---
Here are some photos from our wedding. Everyone thought the crystal bouquet was so unique and beautiful! The porcelain boutonnieres and corsages were amazing! So realistic and perfectly made! Thank you for making my day extra special. I have the crystal bouquet and my husband's boutonnière on display in our home and we look forward to enjoying them for years to come! I gave the wedding coordinator on the cruise your company name and she said she will recommend your site to future brides. Thanks again for your outstanding products.
Warmly, Mr. & Mrs. Giarretta
---
Just wanted to let you know that I received the bouquet today and I absolutely love it!!!
I will send pictures when I finally get married, remember that its not until next spring!! I will put
this away to keep it safe, but wanted you to know that it is truly beautiful!
Thanks a bunch! ~Nicole Torres
---
Hi Jill received the flower bouquets today and they are so beautiful thanks again can you please send me the paypal bill for the pedestal I'm not sure how you do it so just let me know thanks
Kim
Katie had seen an ad or story about your flowers in a bridal magazine. She went to your web site and decided that she wanted porcelain wedding flowers. I have to admit that I was apprehensive, but Katie was so flexible about what she wanted for her wedding and asked for so few "extras" that I wanted her to have that one unique feature of her wedding that she had searched out on her own. We have never regretted her choice. Her bouquet is displayed in a curio cabinet where she enjoys it every day and all guests to her home get a little glimpse of her wedding day.
We are very thankful you were able to do the flowers for this wedding, too. It just wouldn't have been right for Katie to have a beautiful, permanent bouquet unless Erin could have one too. When Erin was planning to have a fresh bouquet, Katie said, "I think Erin is getting ripped off!" How's that for customer satisfaction? A bride who has been married almost 4 years still thinks that your work is the only way to go!
Erin's wedding bouquet is gorgeous! I called and had her look at the picture (I couldn't stand to make her wait-I talk a tough game, but I am marshmallow in the middle!). She loves it and is just as excited as I hoped she would be.
I have one of the bridesmaids' dresses and a shawl that goes with Erin's gown laid across the bed in our guest room with the bouquets displayed so we can just enjoy them for a few days! That room has good lighting, so we can see how all the colors go together. The bouquets are delicate and beautiful. The reality roses just "make" Erin's bouquet. We also both love how the smaller roses fill in the spaces, and are really glad she decided to include the pearls.
When it comes to the wedding flowers, you've still got it! We can't wait to admire the whole order. Thank you for making the bouquet so beautiful.
Erin is thrilled, and of course that's what really matters.
Ann Roberson -
---
I have received my mom's wedding bouquet. It's beautiful! She loves it!

I'll let you know when I receive the samples for the rest of my order.

Thanks again!
Alma Batac Brucal - MA
---
I received all of the wedding flowers, they are stunning! Now
I really can't wait to get married, I will be sure to
send you photos after the wedding. Thank you so much
for your hard work and supreme customer service!

Julia DeAngelis - Virginia
---
I wanted to thank you so much for the porcelain wedding flowers. They were so beautiful!! Here's a sample of what you sent. I'll send you better pictures when I get them. I originally had 4 of the 5 I ordered for myself along the comb of my veil, and one was put on the back of my head also. It looked really nice. I'll send you a picture of the bridesmaids as well. For some reason I couldn't attach it to this email. My mom, mother in law, his grandmother and step mother loved the corsages!
Thank you again. Wanda
---
I have included some pictures from my wedding in Jamaica
The wedding flowers are absolutely beautiful!!
Thank you sooo much!
Amy Gundler and Shawn Wojtasik
---
Attached please find three pictures from my December wedding. The bouquet was amazing - everyone thought it was real. The color was so vibrant in photographs, and the best part is, I get to keep it.

Thanks again, Amanda
---
I received the Porcelain Roses and I love them, I am sure Angie will love them too. Thanks for all your hard work. I will email you and let you know how much she loves them.
Thanks again, Sandi